New Life to Old Lumber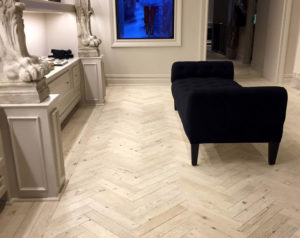 We recently helped a high-end designer in New York City capture a more modern feel to their space using a versatile wood – Rich with history. We custom finished reclaimed oak sourced from Appalachian barns for the project, developing the finish and applying by hand at our shop in Ruckersville, Virginia.
Antique oak is an exceptionally stable platform for flooring, posts and beams. It can hold up under the most extreme conditions and continue to look stunning, the perfect balance for this new project.
When sourcing reclaimed oak, we inspect every piece, grade each on varying degrees of character and quality, and remove all the nails by hand. We retain the nail holes and other scars to celebrate the wood's history.
For centuries, oak was used to build barns and other structures that have come to define Americana. Much of our reclaimed oak is recovered with chestnut, poplar, hickory and pine. An essential part of farm life, barns constructed through the early part of the 19th century were typically built using trees growing closest to the property. The beams, being larger elements of the structures, were limited in size to what could be moved by man and horse. The wood was either hand-hewn using an axe or squared with an adze.
Early settlers also recognized the value of oak from its European subspecies and used red, white, black, scarlet, willow, post and pin varieties to build their barns as well. These varieties are still available in new growth today, but develop a very different appearance after years of being subjected to natural and human elements.